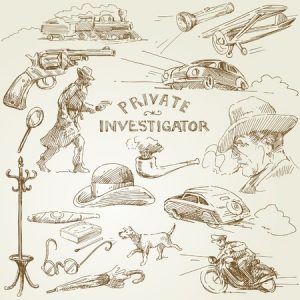 For most people, the only chance they get to see what a private investigator does comes from TV and movies. Famous fictional private investigators include Jim Rockford of The Rockford Files, Thomas Magnum of Magnum, P.I., and perhaps the best known of all time: Sherlock Holmes.
What is it about a person that helps make them a good private investigator—in real life? Well, for starters, attention to detail is very important. If you're the kind of person who never notices details, you shouldn't be a private investigator. Details are the key to investigations.
Are you able to stay organized? Private investigators have to juggle a lot of information, and put it together like puzzle pieces. The job can often feel like being in a maze—sometimes you follow a lead that goes nowhere, while other times, you find "the cheese."
TV and movies show people the highlights of the life of a private eye, with experiences condensed into an hour or two to find out the important information. In real life, surveillance can take many long days and nights, requiring extraordinary patience. There can be boring times, when nothing happens, so if you're the type of person who wants to be busy with action all the time, it's not a job for you.
Other skills private eyes should have include the ability to work with computers, do research online and in libraries, know and understand laws, and deal with photographs and videos.
In addition, it's important to be able to network, as shrewd private investigators will have an array of useful contacts they can call or email when they need vital information.
A healthy dose of skepticism comes in handy, too. After all, private investigators deal with lies and truth for a living.
If you need the help of a private investigator in Pittsburgh, PA, be sure to give the experts at Specialty Private Investigators a call. Their investigators have all of the aforementioned qualities in spades, and can help with an array of cases.